A Wine Region That's Aging Beautifully

Business Week: November 22, 1999
Department: Letter From Long Island
_____________________________________________



A Wine Region That's Aging Beautifully
MAP: Long Island, N.Y.
_____________________________________________



Business Week: November 22, 1999
Department: Letter From Long Island
Headline: A Wine Region That's Aging Beautifully
Byline: By Steve Hamm; Edited by Sandra Dallas



My father-in-law, Tony Mancuso, tells this marvelous story about winemaking in New York. It's 1934. He's 8 years old. He descends into the dimly lit cellar of an apartment building on Southern Avenue in the Bronx with his grandfather, Sal Cassiano, who makes wine there. They discover that one of the barrels has sprung a leak, and a few gallons of wine have spilled onto the concrete floor. A masonry dike has contained the juice, and Cassiano is loath to waste it, so he sops up most of the wine with a towel and squeezes it into 2-gallon bottles. When he's done, he leans down to his grandson and puts a finger to his lips. ``Don't tell anyone,'' he whispers, in Italian. ``Nobody will notice.''



New York wine has come a long way since then. Out on the eastern tip of Long Island, a couple of hours' drive from where Cassiano brewed his Chteau Le Bronx, the so-called North Fork wine region is emerging from a 26-year-long infancy and at last gaining recognition as one of the world's up-and-coming wine-producing hot spots. It's not the match of California's Napa Valley--not yet, anyway. But the 21 wineries on the North Fork, on land where potatoes grew for a century, now produce merlots, cabernet sauvignons, and chardonnays that are often ranked between 80 and 90 points--good to very good--by Wine Spectator magazine.



Outsiders have begun to take notice. Earlier this year, a group of Chilean investors bought a North Fork winery, Laurel Lake. Leslie Alexander, owner of the Houston Rockets, is acquiring land and plans to establish a winery. And in October, Alex and Louisa Hargrave, the owners of Hargrave Vineyard, the first modern winery on Long Island, sold their place to no less than an Italian prince, Marco Borghese, who grew up on a 2,000-acre Tuscan estate and plans to experiment with Italian nebbiolo and sangiovese grapes.



To local winemakers, the prince's arrival on the scene signals the end of the mom-and-pop era. ``Now the big money comes in,'' says Jerome Gristina, proprietor of Gristina Vineyards in the North Fork village of Cutchogue and a Connecticut physician. For Gristina, this is a good thing. It means the wines of the North Fork will get noticed and their market will grow. But some locals--even Gristina's wife, Mary Gail--worry about the potential Napafication of their pretty little corner of the world. Will it become commercial and overcrowded and lose its rural charm? ``I see a loss of innocence,'' she says. ``It's like going from the local hardware store to Home Depot.''



But right now, going to the North Fork is like traveling back in time. I visited in early October on a two-day bicycling jaunt with a friend, Tim Chegwidden, sales manager for Slocum & Sons, a Connecticut wine distributor. The land is flat to slightly rolling, planted in grapes, potatoes, sod, and fruit trees. Craggy oaks shade the villages of Greenport, Southold, and Cutchogue, which are small and quaint, with 200-year-old houses and 100-year-old churches and plaques to show where the old Pilgrim stocks used to stand on the village green. The water is never far away. Cycling along Route 25 on the south side of the thin neck of land, we see men wading slowly in four feet of Peconic Bay water, raking in clams.



On the weekend we visit, the North Fork is in its glory. Leaves are beginning to blush red and orange. Pumpkin and fruit stands line the byways. And the traffic jams caused by tourists out from New York City and central Long Island in their BMWs and Camrys are menacing to life and bike. In the winery tasting rooms, weekenders line up four deep at the counter.



Before Tim and I taste, we work. A little bit, anyway. Jerry and Mary Gail Gristina drive us out to the vineyards in their SUV to help with the grape harvest. They're pulling in merlot--small, tight bunches of blue-black grapes. The grapes have been trained to hang low under the canopy of leaves, so harvesting is a matter of walking along the rows, snipping them off with a pair of pinking shears, and dropping them into plastic baskets. If you spot botrytis--fuzzy mold--you cut it out. Back at the winery, as a reward, we sample merlot, cabernet, and cabernet franc. The cab franc is the best of the lot, according to Tim.



This is the beginning of my education in the fine art of wine talk. John Perry, Gristina's general manager, describes the 1994 Andy's Field cabernet as ``a chocolate, chewy wine--good with food.'' Later, at the nearby Pellegrini Vineyards, Russell Hearn, the winemaker, talks about the ``fatness'' of his wine. He means rich, voluptuous, ripe--the result of waiting until the last minute to pick the grapes. And Tim praises the Pellegrini 1995 cabernet franc. ``This wine has freshness,'' he says. ``It dances a bit.''



CLASS ACT. Before we began our tour of local wineries, we devised a test of character for our hosts. According to Tim, it is said that in the renowned Italian wine village of Barbaresco, when you ask winemakers who ferments the best wine in town, they rank themselves No. 1 but grant Angelo Gaja the No. 2 spot. That's how you know Gaja is the best winemaker in Barbaresco. Tellingly, when we asked North Fork winemakers what was the best red wine ever made there, they all mentioned one of their neighbors' wines first--before their own. These folks have class. Some of the North Fork winemakers' top picks: Paumanok Vineyard's 1995 cabernet and Lenz Winery's 1993 merlot. Pellegrini' s Hearn says the best cabernet was probably Bedell Cellars' 1995 vintage- -neck-and-neck with his own cab from that year.



On the North Fork, every winemaker seems to have a story. Mostly, they're about dreams that have come true. Bedell proprietor Kip Bedell seems an unlikely wine master. In the early 1970s, while running a small fuel-oil delivery business in the Long Island town of West Hempstead, he started making wine in his basement for family and friends. He liked it so much that he decided to grow his own grapes. So he bought 50 acres on the North Fork in 1980 and bottled his first wine in 1985. Last year, Wine Spectator proclaimed him the best maker of red wine on Long Island.



Alex Hargrave learned to love French wines as a language student in France in the 1960s. After getting a master's degree in Chinese, he switched gears and used money inherited from a grandfather to buy 66 acres in Cutchogue in 1973. His dream was to prove that French varietals such as cabernet sauvignon and merlot could be grown on the island. ``I was smitten by the romantic notion--the Virgilian mode of having a small farm,'' Hargrave says. When he first scouted the North Fork, he noticed that nearly every homestead had a grape vine running from the farmhouse to the outhouse. That told him the area was the right place for a winery.



Can the grapes grown here create great wine? Typically, North Fork wines are acidic--making them good with local seafood. The region hasn't been established long enough for a definitive style to emerge, however. Greatness? It's too early to tell if that's possible, says Thomas Matthews, executive editor of Wine Spectator. The North Fork has the best climate and drainage for wine on the East Coast, but it's not the Napa Valley. ``It's unclear if [conditions] will be enough to produce great wine on a consistent basis,'' he says.



SMALL WORLD. Hargrave's vision has come to pass. There are now more than 2,000 North Fork acres planted in wine grapes. The vinyards produce about 400,000 cases that yield about $35 million in sales, double the amount 10 years ago. That's still tiny by world standards, and most winemakers on the island don't expect the place to ever gush a sea of wine. In fact, they're interested in keeping things pretty much the way they are--many participate in county and town programs for preserving farmland by buying up development rights on agricultural land.



But while size doesn't matter much to them, the North Fork's winemakers want their reputation to improve. Already, their confidence is growing. ``We used to say we wanted to be like other wine regions. Now we say we want to be like the North Fork. We're just who we are,'' says Charles Massoud, owner of Paumanok Vineyards.



Hargrave is content to leave the next challenges for the North Fork wine region in the hands of others. His new dream is to get back to the studies he left 26 years ago: trying to reconstruct an ancient Chinese language. Meanwhile, Borghese hopes to shape the future of Long Island wines. He's going to keep the Hargrave name on his labels, but some of the new wines he produces may be branded Borghese--an august Italian family. He'll plant more acres in vines, broaden distribution, and expand his tasting room. If the current boom requires new roads in the North Fork, so be it. ``This could be the coming of age. I hope it is,'' he says.



``I'LL MISS IT.'' Whatever the fate of local winemaking, the North Fork's era as a potato-growing capital is surely over. The acreage planted in potatoes for all of Suffolk County has dropped from 45, 000 at its peak in 1952 to 6,000 now. This October, 81-year-old Michael Kalosky harvested his last potato crop on a farm his parents established in Cutchogue some 70 years ago. He first worked those fields behind a horse-drawn plow. ``It was mostly bad years,'' Kalosky admits. But his whole life has revolved around potatoes. Now his siblings have persuaded him to sell the farm--which will be converted to grape vines. ``I'll miss it,'' Kalosky says, his voice growing husky.



I picked up one of Kalosky's last potatoes--a yellow spud he calls a ``657.'' It was left in the field after Kalosky drove through on his rickety old harvester, scooped the last crop into a 1946 Chevy truck, and hauled it off to a storage shed. I carried the potato around for two days, and when I got back home, I fried it with garlic and olive oil and shared it with my 11-year-old son, Daniel. Old Kalosky' s potato was amazingly fresh and sweet--with a satisfying earthy aftertaste and a hint of pepper. May all the North Fork's wines someday taste so good.



_____________________________________________



Business Week: November 22, 1999
Department: Letter From Long Island
Headline: MAP: Long Island, N.Y.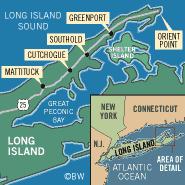 Copyright 1999 The McGraw-Hill Companies, Inc. All rights reserved.