History of Paumanok


Founded in the spring of 1983, our 127 acre estate is entirely owned and managed by Ursula and Charles Massoud, and our three sons. Born and raised in the "Old World", wine has always been a part of our lives and we continue the tradition at Paumanok Vineyards.

Only premium vinifera grapevines are planted, consisting of Chardonnay, Riesling, Sauvignon Blanc, Chenin Blanc, Merlot, Cabernet Sauvignon, Cabernet Franc and Petit Verdot. The traditional dense planting of the vineyards at 1100 to 1400 vines per acre produces more concentrated fruit and therefore higher quality wines. For our wines, only estate grown grapes are used and production is limited to fewer than 12,000 cases.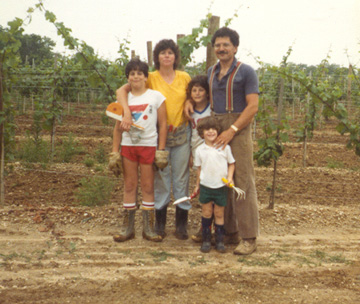 The winery is a renovated turn-of-the-century barn that houses a fermentation tank room and lab. The spacious tasting room was built on top of the barrel cellar. It is surrounded by an inviting deck overlooking the vineyards. Our deck and tasting room are the perfect setting for private parties and weddings, with many special events scheduled throughout the year.
Paumanok continues a tradition - a passionate commitment to make fine wines. We invite you to visit Paumanok to discover and enjoy the tranquil beauty of the vineyards and the pleasure of tasting our exquisite wines.
Paumanok is the only name the great poet Walt Whitman used to describe this special place that is our vineyard's namesake...
SEA BEAUTY!
Stretch'd and basking!
One side thy inland ocean laving, broad, with copious commerce, steamers, sails.
And one the Atlantic's wind caressing, fierce or gently - mighty hulls darkgliding in the distance.
Isle of sweet brooks of drinking-water - healthy air and soil!
Isle of the salty shore and breeze and brine!